Custom Bubble N Squeak Ponies Artist Proof 9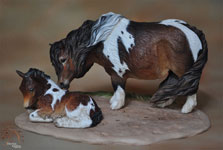 Quick Info
Pony Mare: 1/9th scale
(3 1/4 H X 1 3/4 W X 5 L)
Pony Foal: 1/9th scale
(1 1/2 h x 1 1/2 W X 2 1/2 L)
Sculptor: DeeAnn Kjelshus
Material: Resin
Media: Acrylics, Pastels
Completed: August 2016
Available to
order
painted and unpainted
This is a customized version of Bubble N Squeak. A Shetland Pony resin mare and foal sculpted, customized and finished by DeeAnn Kjelshus.
This pair has been brought to life with resculpting and finish work by myself, DeeAnn Kjelshus. The original pieces I sculpted did not have the mare licking her foal. I have added a fun "awww" moment by customizing the mare to be grooming her foal. Her foal also has a little tuft of his hair near his withers that is tossled as she licks him.
The pair was then brought to life painted by using a variety of media including Acrylics and Pastels. Since they are a pair of ponies in the pasture I couldn't leave their legs just white and added a hint of dirt and yellowness that real ponies get after hanging out in the pasture. The pieces are fuzzy coated as well with the coat showing a nice hair texture!
These pieces have all the normal details including detailed muzzle, eyes, ears, genitals, hooves, mouth, mane and tail, as well as a few more including hair whorls, individual hair patterns on markings and more. Look closely so you don't miss anything.
Each piece is painted in many, many layers. These two are no exception, and each detailed hair is painted by hand. The layers are sealed with a protective matte finish. The piece is sealed with a final protective coat as well as an extra matte sealant on the areas like ears, hooves, tail tips etc. to protect them even further. The piece is finally completed by bringing the eyes and tongue to life and sealing them with a clear gloss.