Sales
Thanks for your interest in my work! Please see below for available items. Please note my policies at the bottom of this page.
ENCANTO RESIN
Buy Encanto! - Available for offers on my Facebook page
AVAILABLE

Introducting an Encanto resin sculpted by Josine Vingerling and painted by DeeAnn Kjelshus. Completed in 2022.
Artist quality oils and acrylics were used to create his soft dunalino coat and soft velvety muzzle. He is creating using many, many built-up layers. He is sealed with a final coat of protective finish, along with his eyes being glossed for realism. He was completed in 2022 and live shown once. He has his own NAN card from the breed class at that live show. Encanto is top LSQ and Traditional scale.
Buy Encanto! - Available for offers - Full details on my facebook page here. *time payments accepted*




Tallulah - SOLD
SOLD
Meet Tallulah! Tallulah is a custom painted Royal Doulton Donkey. This was the Wild Burro sculpted by Carter Jones. Custom Painted by DeeAnn Kjelshus in 2022. She is painted in oils with details done in acrylics. She's smaller, closer to scale with a large stablemate. The photo of her in my hand helps visualize her size. Shes on a lovely base of grass, and stone. I've added some pretty purple and pink wildflowers. She is mounted on a wooden base witha felt pad on the bottom. She is a unique custom that should stand out in the custom rings at live and photo shows! Tallulah measures approximately 3 X 3 inches with the base included.
Volaré
Order unpainted Volaré ! $65 ppd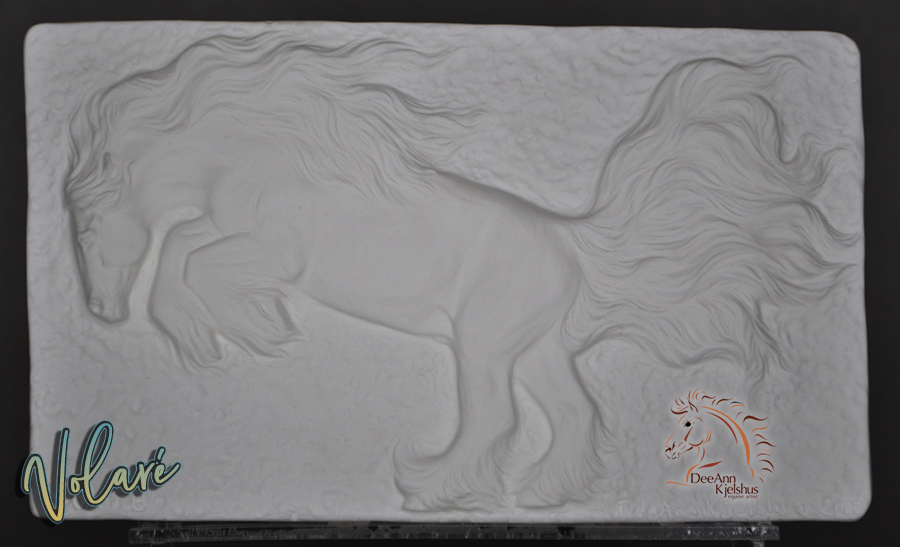 Order unpainted Volaré ! $65 ppd
FOR SALE: Unpainted Volaré medallions! Volaré means "To fly" in Italian and is inspired by the Gipsy Kings song of the same name. Volaré is an Irish Tinker (also known as Irish Cob or Gypsy Cob) Horse playing with his mane and tail flying in the wind.
Volaré will be a one mold run. He is available to order unpainted and occasionally I will have painted copies available on my sales page (AP #1 in dapple grey is sold, photo for example only). He is BIG measuring approximately 8" x 4 1/2" (photo below with a Traditional scale Breyer for scale) Lots of space to play with paint.
Price for an unpainted copy: $65 ppd in the USA
Video below is from Instagram, but shows some nice angles of Volaré in resin.
Purchase: $55 Unpainted Dakotah Medallion
Dakotah is my brand new medallion for 2021. I sculpted Dakotah as a wild North Dakota Badlands horse. He is a nod to the state where I was born and raised - North Dakota. If you aren't familiar with the horses please check them out. The wild horses of the Badlands hold a unique place in the history and settlement of North Dakota.
Dakotah was inspired by the North Dakota Badlands Horse they called Blaze. Blaze was a stunning red roan stallion with a blaze and one blue eye. He inspired many people and lives on in the hearts of all of his admirers. As part of his background I've sculpted some of the rugged North Dakota Badlands. The badlands are harsh to live in, but a beautiful place to visit.
Dakotah will be a one mold run and is approximately 5 inches. At this time I have 1 painted, and 15 unpainted medallions available for immediate shipment. Photo of painted roan copy is example only. You may purchase your unpainted copy below.
Purchase: $55 Unpainted Dakotah Medallion
Painted Medallions for sale
---
Becky Turner Arab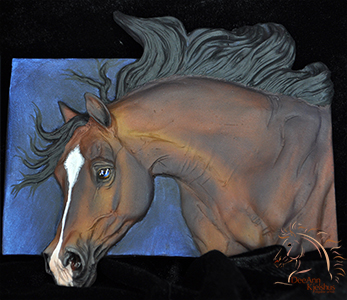 This is a beautiful Arabian medallion sculpted by Becky Turner of Soltice Studios. He has been painted by DeeAnn Kjelshus. I love the detail and heart she captured in this Arabian. He's very elegant and his eyes are so soulfull! Approximate size 3 X 4. Artist quality acrylic paints and pastels were used to create his beautiful bay coat colors. I've used many colors to achieve his depth of coat color. His background is in color-shifting paints so it changes with the light a bit. He is sealed between each layer with a matte fixative and finished with a final coat of protective finish, along with his eyes being glossed for realism.
Policies
Time Payments:
Time Payments will be accepted for larger ticket items. If you need time payments I suggest that you inquire before sales begin to see if I will accept them. If I've worked with you in prior sales, no problem. If not, you will need to send some references or have green transaction lights. A 25% non-refundable deposit is due within one or two hours of inquiring to secure your purchase with payment plans. The 25% deposit is non-refundable should you change your mind on purchasing the item or default on payments. Payments must be made at least once per month, or every 30 days. If a payment is missed and there is no communication, the item will be put back up for sale and all money sent thus far will be forfeit. I am happy to work with buyers should something serious and unexpected comes up. Please keep in contact with me. Items will only be shipped when I have received the full balance including shipping costs. All payments are non-refundable. Initial deposit or payment expected within 24 hours of setlocale close. All payments are non-refundable.
Payment Information: Accepted forms of payment: Paypal, Venmo, or Zelle.
If you have a PayPal account, I can provide my PayPal address or send you an invoice. If you do not have a PayPal account no worries! I can send you a PayPal invoice where you can pay with a credit or debit card. Payment for paid-in-full/First-Come-First-Serve items is required (in full) within an hour or two of purchase. If I do not receive payment (an email saying you plan to pay is not satisfactory unless we made arrangments) the item will go up for sale again. Payment plans for items on-time payments should be discussed when inquiring and a 25% non-refundable deposit is due within one or two hours of inquiring to secure your purchase.
​
General Shipping Information: I am more than happy to ship within the U.S. Some items are PPD (only within the U.S.; international shipping is always additional) while others require postage to be paid in addition to the sale price. This will be mentioned in each item's sale details. Tracking information will be provided if you pay using PayPal but I am also happy to send the tracking number via email. Each horse is packed carefully and with care for shipment, but I am not responsible for the model once it leaves my possession.