Volaré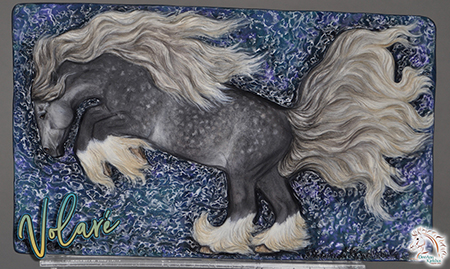 Currently available in Fine Artists Resin.
Introducing Volaré ! Volaré means "To fly" in Italian and is inspired by the
Gipsy Kings song
of the same name. Volaré is an Irish Tinker (also known as Irish Cob or Gypsy Cob) Horse playing with his mane and tail flying in the wind. He is a medallion measuring approximately 8" x 4 1/2". There is a photo below with a Breyer PAM so you can see how large this medallion is. Lots of space to play with paint.
Unpainted Volarés are ready to ship now!
Volaré will be a one mold run. Photos of painted medallions are examples only. He is available to order unpainted and occasionally I will have painted copies available on my
sales page
.
Quick Info
Irish Tinker (also known as Irish Cob or Gypsy Cob) Horse
Size: 8" x 4 1/2"
Sculptor: DeeAnn Kjelshus
Material: Resin
Released: 2022
Edition Size: 1 mold
Status: Available to order unpainted

Pricing
Limited pre-casting Unpainted price: $47 + 8 shipping in the USA - limited to 10 copies
Unpainted: $60 + $8 shipping in the USA
* contact me for shipping on international orders*
Volaré painted by Sculpting Artist DeeAnn Kjelshus