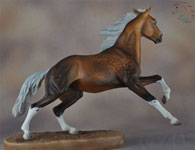 Quick Info
Size: 1/9th scale
Sculptor: Lynn Fraley
Finishwork: DeeAnn Kjelshus
Material: Resin
Media: Pastels, Acrylic and Colored Pencils
Completed: 2013
Introducing "Zippin A Latte". A Gorgeous sooty palomino mare painted in acrylics, pastels and colored pencils by DeeAnn Kjelshus.
Sculpted by the mega talented Lynn Fraley this is a 1/9th Scale resin called "Zyde-Go-Go"".
This piece has all the details including detailed muzzle, eyes, ears, genetails, hooves, mane and tail. Read more about her show debut on my blog. She has since been sold and is in a private collection.