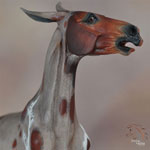 Quick Info
Size: 1/9th Scale Mule
Sculptor: Lynn Fraley
Painter: DeeAnn Kjelshus
Material: Resin
Media: Acrylic and Pastels and colored pencils
Completed: 2014
Finish work by DeeAnn Kjelshus in March of 2014.
I guess I have been wishing for spring and so this beauty was born and named Tulip! :)
This is Lynn Fraley's very well known Tuesday mule resin. I had the pleasure of seeing Lynn start this sculpture when I attended one of Lynn's "Wire to Whinny" Clinics. I couldn't wait to get my hands on a copy, or two, she is full of life and quite the character! This is the 2nd Tuesday resin I have painted and she was just as fun to paint as the first. She is now a very detailed roan spotty mule painted in acrylics, and pastels by myself, DeeAnn Kjelshus. Her pattern is based off of a real mule that was the cross between a roan pinto mare and a spotted Ass.
This piece has all the normal details including detailed muzzle, eyes, ears, genitals, hooves, chestnuts, mouth, mane and tail, as well as a few more including hair whorls, individual hair patterns and more. Look closely so you don't miss anything.
Each piece is painted in many, many layers. This gal was no exception, and each detailed hair is painted by hand. The layers are sealed with a protective matte finish. The piece is sealed with a final protective coat as well as an extra matte sealant on the areas like ears, hooves, tail tips etc. to protect them even further. The piece is finally completed by bringing the eyes to life and sealing them with a clear gloss.