Mini Scarlett
Belgian Mare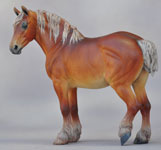 Quick Info
Size: 1/28th Belgian Mare
Sculptor: Stacey Tumlinson
Painter: DeeAnn Kjelshus
Material: Resin
Media: Acrylic and Pastels
Year completed: 2014
Mini Scarlett resin sculpted by the uber talented Stacey Tumlinson.
Finish work by DeeAnn Kjelshus in April of 2014.
Scarlett has always been one of my favorite Draft horse resins. I had a blast painting this girl into a dappled Chestnut Belgian Mare. She has all the details a larger version would have including detailed muzzle, eyes, ears, genitals, hooves, mane and tail.