Maxixe de Barrios
A Sabino Criollo Stallion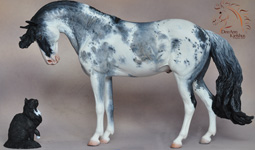 Quick Info
Size: 1/9th scale Criollo Stallion
Sculptor: Morgen Kilbourn
Resin name: Maxixe de Barrios
Painter: DeeAnn Kjelshus
Material: Resin
Media: Acrylics Completed: January 2015
Maxixe de Barriosn Commission completed January of 2015.
This is a Morgen Kilbourn Maxixe de Barrios Resin finish work by DeeAnn Kjelshus. Completed in January of 2015
This resin has been meticulously finished by myself, DeeAnn Kjelshus. Hours and hours of detail have been added by hand brushing each little hair on this guy. He is painted to look like a Sabino Criollo Stallion. The Criollos Sabino pattern is quite unique in comparison to what you usually see on other breeds. His pattern was inspired by this real horse. Here's another cool shot of this real Criollo. This guy was a commission and his new owner wanted him to have a darker head. So after lots of research we came up with the idea for his head from another reference photo of a similar Sabino Criollo. No details were left out on this boy. He has all the hair whorls, detailed chestnuts, nose, eyelashes, tail frosting, and hooves detailed out.
This piece is painted in many, many layers. Each detailed hair is painted by hand. The layers are sealed with a protective matte finish. The piece is sealed with a final protective coat as well as an extra matte sealant on the areas like ears, hooves, tail tips etc. to protect them even further. The piece is finally completed by bringing the eyes to life and sealing them with a clear gloss.