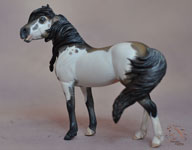 by DeeAnn Kjelshus 2015.
This is a Customized Mustang Stallion. Sculpting and finish work by DeeAnn Kjelshus. Completed in 2015
This horse has been meticulously customized and finished by myself, DeeAnn Kjelshus. He has a lot of sculpting done to his head to open his mouth as he squeals for his mares. He also has detailed ears, a new wind blown mane and tail. His legs and hooves have been cleaned up he has fetlock hair which has been tinted just a tad to make it look dirtier just as a real mustang would look in the wild when he hasn't had a bath. His pinto pattern was inspired by this real horse – a beautiful grulla overo. His mane and tail are "frosted" with sunburnt ends. No details were left out on this boy. He has all the hair whorls, detailed chestnuts, nose, eyelashes, tail frosting, and hooves detailed out.
This piece is painted in many, many layers. Each detailed hair is painted by hand. The layers are sealed with a protective matte finish in between each layer. The piece is sealed with a final protective coat as well as an extra matte sealant on the areas like ears, hooves, tail tips etc. to protect them even further. The piece is finally completed by bringing the eyes to life and sealing them with a clear gloss.
My work is considered top LSQ with many Championships to date, including top tens and Grand and Reserves at North American Nationals (NAN).
Quick Info
Size: 1/28th scale Mustang Stallion
Customizing/sculpting: DeeAnn Kjelshus
Painter: DeeAnn Kjelshus
Material: Apoxie
Media: Acrylic and Pastels
Completed: 2015