Bedazzled A$$ - a Mule John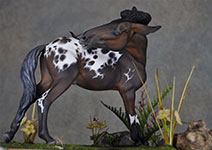 Quick Info
Size: 1/12th scale
Resin: Hank Mule John resin
Sculptor: Tibbi Searcher
Painter: DeeAnn Kjelshus
Material: Resin
Media: Oils, Pastels and Acrylics
Completed: 2023

Bedazzled is an Hank mule resin sculpted by Tibbi Searcher. He is a curious Mule who has an itch. His base coat is hand-painted in artist-grade oils. His mane and tail, spotted pattern, markings, and details are hand-painted in artist-grade acrylics. He is creating using many, many built-up layers. He is sealed with a final coat of protective finish, along with his eyes being glossed for realism. He also has a realistic handmade base, with a stained wooden base beneath. Lastly, he has 4 hand-made butterflies. 3 of the butterflies are able to be moved around and attached to him, and the 4th is attached to the base. He was completed in October of 2023.