Dakotah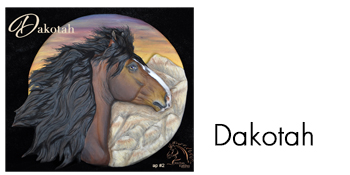 Currently available in Fine Artists Resin.
Introducing Dakotah! I sculpted Dakotah as a wild
North Dakota Badlands horse.
He is a nod to the state where I was born and raised - North Dakota. If you aren't familiar with the
horses
please check them out. The wild horses of the Badlands hold a unique place in the history and settlement of North Dakota.
Dakotah was inspired by the North Dakota Badlands Horse they called
Blaze
. Blaze was a stunning red roan stallion with a blaze and one blue eye. He inspired many people and lives on in the hearts of all of his admirers. As part of his background I've sculpted some of the rugged North Dakota Badlands. The badlands are harsh to live in, but a beautiful place to visit.
Dakotah will be a one mold run. Photos of painted medallions are examples only. He is available to order unpainted and occasionally I will have painted copies available on my
sales page
.
Some beautiful photos of
North Dakota Badlands horses
Quick Info
North Dakotah Badlands Horse
Size: 4 1/2 inches round
Sculptor: DeeAnn Kjelshus
Material: Resin
Released: 2021
Edition Size: 1 mold
Status: Available to order unpainted

Pricing
Unpainted: $47 + 8 shipping in the USA
* contact me for shipping on international orders*
Dakotah painted by Sculpting Artist DeeAnn Kjelshus
All are sold