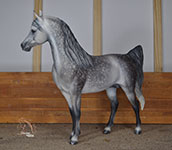 Quick Info
Size: 1/9th scale
Breyer: Proud Arab Mare PAM
Customizer: DeeAnn Kjelshus
Material: Plastic and Apoxie
Media: Acrylic and Pastels
Completed: 2016 and updated 2021

Introducing "Zanzha".

This is Zanzha. Zanzha is a cusotmized Breyer Proud Arabian Mare or PAM for short. I originally cusotmized this stallion in 2016. My daughter was 9 at the time and had just won a beautiful Arabian costume. She wanted to show it and didn't have a LSQ horse to show it on. I had a PAM in my body box so quickly set to work. Later the custom suffered some damage so in 2021 I reworked him a bit and updated his paint job. I gave the original body quite a few tweaks including a new neck, customized head, new mane and tail, a tummy tuck and stallion anatomy. Done in Acrylics and Pastels.